Camp Jotoni Presents: A Spooky Halloween Event
Join us on Saturday, October 28, from 5:00 pm to 9:00 pm at Camp Jotoni for a Spooky Halloween Event!  Event admission of $10 includes a walk through haunted cabins and spooky nature trail, pumpkin decorating, face painting, photo booth, bake sale, and hay ride! 
All proceeds from this event benefit Camp Jotoni's Capital CAMPaign! Camp Jotoni is located at 51 Old Stirling Road, Warren 07059.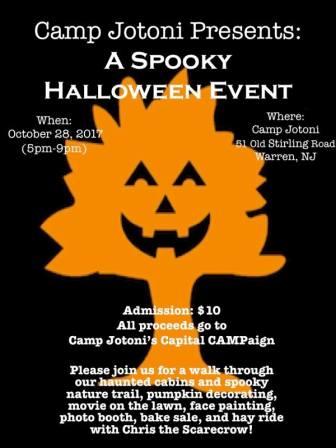 Please click here to view additional photos from the event.
---
The goal for 2017 is to raise a minimum of $300,00 additional dollars so we can begin work on our first cabin. Donations to the Capital Campaign will help us renovate our facilities and expand our camp services to ensure we continue to meet the needs of those we serve. In addition, we will have the ability to open our facilities for private use to our constituents and to the Warren Township Community.
Please consider making a contribution to The Camp Jotoni Capital Campaign and help grow with us!
Please click on the button below to make a donation to the Camp Jotoni Capital CAMPaign.
You can share this page with your friends and family or you can also create your own personal campaign page to raise money for the Camp Jotoni Capital Campaign here.  Feel free to use parts of our message and you can also write you own appeal and add your own photo.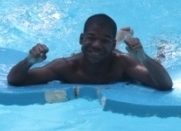 CONTACT INFORMATION
To schedule an in person meeting to discuss plans for Camp Jotoni's Revitalization Project and your interest in supporting the campaign, please contact Lisa Marie Arieno at 908-658-3805 or e-mail at lisamariea@thearcofsomerset.org
To learn more about Camp Jotoni, please click here.
---