Camp Jotoni
---
Camp Jotoni Capital Campaign Kick-Off Cocktail Party
Please Join us for the Capital CAMPaign Kickoff Presentation and Cocktail Party on Thursday October 22, 2015 at Fiddler's Elbow Country Club in Bedminster from 6:00 pm to 8:00 pm to hear about the plans to revitalize our Camp facilities and to increase respite programs for families who are caring for a loved one with an intellectual and/or developmental disability. Attendees will also have the opportunity to offer pledges for financial support toward the camp renovation project with specific naming opportunities.
Please RSVP before Friday, October 16, to Lisa Marie at 908-658-3805 or at lisamariea@thearcofsomerset.org.
---
Camp Jotoni Fall Respite Weekends!
Camp Jotoni will be offering two respite weekends this fall:
September Weekend - Friday, September 11th- Sunday, September 13th
October Weekend - Friday, October 9th - Sunday, October 11th
Drop off/Pick up
Drop off time for both weekends will be sent via email to parents/families the week prior to the weekend. Pickup time for both weekends is by 3pm Sunday.

Medical Forms
If you attended Camp Jotoni during the summer then those medical forms will be fine.  If you are a new camper your medical forms must be submitted PRIOR to attendance.  If there are any medication changes since your camper's last session at Camp, you MUST let Camp Jotoni Administration know PRIOR attendance. Any incomplete or missing forms will result in your camper not being allowed to attend. 
Additional Services
Camp Jotoni will offer a limited number of slots for campers needing additional services. The number of spots will vary each session and are based on staffing availability.
Please click here to register for Camp Jotoni's Fall Respite Weekends.
Please click here to contact us with nay questions.
 
---
The Arc of Somerset County has been providing summer camp and recreation programs to children and adults with disabilities for over 35 years.
Since then, Camp Jotoni has opened its grounds to individuals with special needs and their families each spring to share the excitement of our unique camp experience.
Our goal for Camp Jotoni is to have this very special camp facility opened for year round respite programs. Respite programs offer parents of campers a much needed break from the daily care of their child/young adult. In order to have this service, we must continue to raise funds to help support new insulated buildings and facilities that can be operated in all four seasons.
The goal for 2016 is to raise 1.5 million dollars. Donations to the Capital Campaign will help us renovate our facilities and expand our camp services to ensure we continue to meet the needs of those we serve. In addition, we will have the ability to open our facilities for private use to our constituents and to the Warren Township Community.
Please consider making a contribution to The Camp Jotoni Capital Campaign and help grow with us!
You can share this page with your friends and family or you can also create your own personal campaign page to raise money for the Camp Jotoni Capital Campaign here.  Feel free to use parts of our message and you can also write you own appeal and add your own photo.
CONTACT INFORMATION
To schedule an in person meeting to discuss plans for Camp Jotoni's Revitalization Project and your interest in supporting the campaign, please contact Lisa Marie Arieno at 908-658-3805 or e-mail at lisamariea@thearcofsomerset.org
To learn more about Camp Jotoni, go to: www.CampJotoni.org
---
Help Fund A Camper
In order to support all families, The Arc of Somerset County has created an individual Camp Jotoni Campership Fund called "Help Fund A Camper". This fund is a scholarship program that will help provide the financial assistance to those families who need additional support to be able to access Camp Jotoni's Programs.
---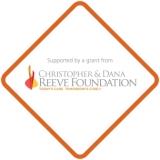 ---
---
Take a moment to view our camp video!
---
Please check the Camp Jotoni Calendar for the schedule of residential and day camp weeks for 2015.
---
Year-Round Fun at Camp Jotoni!
---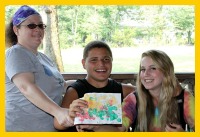 Sounds of joy and laughter fill the campgrounds. Warm summer showers, cool splashes in the pool, songs sung around a campfire are some of the shared memories created at Camp Jotoni, located in the rural Warren, New Jersey. Sponsored by The Arc of Somerset County, Camp Jotoni is a day and residential camp for children and adults with intellectual and developmental disabilities. Campers are ages five to adult. Camp Jotoni is set on 15 acres in Somerset County, and the camp features a junior Olympic size pool, cabins, dining hall, playgrounds, open air pavilions, unspoiled woods, and nature trail.
Camp Jotoni is accredited by the American Camp Association

---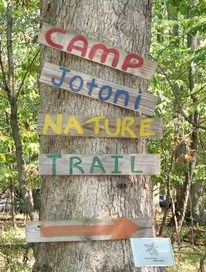 ---