Camp Jotoni
---
2015 Camp Jotoni Application Available On-line Now!!
---
Camp Jotoni Parent Information Night
The Parent Information Night will be held Wednesday, March 18, at 6:30 pm at The Arc's Main Office, located at 141 South Main Street, Manville 08835. Camp Jotoni Administration will be on hand to answer any questions parents have about Camp Jotoni including: tuition, payment options, Camperships, day camp, residential camp, alternate day camp program, transportation, intake and acceptance processes and more.
There will be laptops set up for any parents who need assistance with the new online system or who want to register their campers.
If you plan on attending, please RSVP to Karina Alvarado at 908 725 8544, x672 or at karinaa@thearcofsomerset.org.
---
---
Take a moment to view our new camp video!
---
Please check the Camp Jotoni Calendar for the schedule of residential and day camp weeks for 2015.
---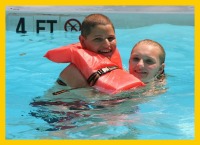 Finding His Inner Confidence
Beginning with his participation in the Early Intervention Program as a baby, Matt has become a very familiar face at The Arc. He has been a Camp Jotoni camper for over ten years, participating in residential camp, respite weekends, and day camp. Through his many years of involvement with The Arc, the staff have seen amazing changes in Matt's growth and development. When Matt first started at camp, he was hesitant to engage in activities, was generally reserved, and often needed to be coaxed out of his car each day. Matt is now a camp leader, and is often the first to participate in an activity whether it be finger painting, a nature scavenger hunt, or jumping into the deep end of the pool! Matt has formed priceless friendships at camp, and is comfortable around almost anyone including counselors and fellow campers. Matt has made such positive changes in his involvement at camp that even after he graduated from his school program he continued to be a regular at Camp Jotoni. We look forward to watching Matt develop even further in the years to come!
---
---
Year-Round Fun at Camp Jotoni!
Check back soon for the 2015 Respite Programs!
---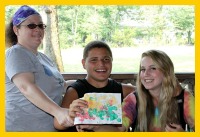 Sounds of joy and laughter fill the campgrounds. Warm summer showers, cool splashes in the pool, songs sung around a campfire are some of the shared memories created at Camp Jotoni, located in the rural Warren, New Jersey. Sponsored by The Arc of Somerset County, Camp Jotoni is a day and residential camp for children and adults with intellectual and developmental disabilities. Campers are ages five to adult. Camp Jotoni is set on 15 acres in Somerset County, and the camp features a junior Olympic size pool, cabins, dining hall, playgrounds, open air pavilions, unspoiled woods, and nature trail.
Camp Jotoni is accredited by the American Camp Association

---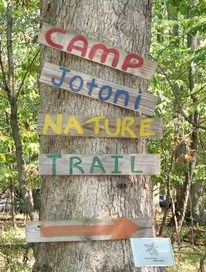 ---