Camp Jotoni
Camp Store Now Open!!
You can now purchase shirts, sweatshirts, blankets, etc. with the Camp Jotoni logo! All proceeds go toward scholarships for campers. Make your purchase today!
---
Community Day at Camp Jotoni
The Arc will hold an open house at our summer camp in Warren on Saturday, September 28th (rain date: Sunday, September 29th), from 1:00 pm to 4:00 pm. All are invited to tour the property and learn about the services provided at camp.
In addition, there will be activities for the entire family including games, a petting zoo, etc.
Attendees will also have the opportunity to bid on the rain barrels assembled by Camp Jotoni campers and counselors. For additional information, please contact Laura Ziegler at 908.725.8544 x608 or via email at lauraz@thearcofsomerset.org.
---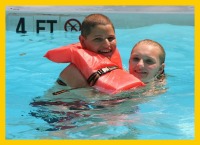 Finding His Inner Confidence
Beginning with his participation in the Early Intervention Program as a baby, Matt has become a very familiar face at The Arc. He has been a Camp Jotoni camper for over ten years, participating in residential camp, respite weekends, and day camp. Through his many years of involvement with The Arc, the staff have seen amazing changes in Matt's growth and development. When Matt first started at camp, he was hesitant to engage in activities, was generally reserved, and often needed to be coaxed out of his car each day. Matt is now a camp leader, and is often the first to participate in an activity whether it be finger painting, a nature scavenger hunt, or jumping into the deep end of the pool! Matt has formed priceless friendships at camp, and is comfortable around almost anyone including counselors and fellow campers. Matt has made such positive changes in his involvement at camp that even after he graduated from his school program he continued to be a regular at Camp Jotoni. We look forward to watching Matt develop even further in the years to come!
---
---
Year-Round Fun at Camp Jotoni!
Fall Festival Weekend - September 20 through September 22
Along with the usual camp activities, campers visit a local zoo, go bowling, play minigold, watch at movie, and enjoy a campfire too!!
Fall Halloween Weeend - October 11 through October 13
Along with the usual camp activities, campers will visit a pumpkin patch, go on a hayride, walk a ahunted trail, and make seasonal crafts!
Campers must be self sufficient, comfortable sleeping away from home, and interacting with others in the community. Cost per camper for each weekend is $300 and a $50 deposit is required with application.
Thanksgiving Dinner Party - November 23, 11:00 am to 7:00 pm
The day will be spent cooking a Thanksgiving meal, watching a seasonal movie and making a campfire (weather permitting). Limit 25 campers.
Christmas Party, December 14, 10:00 am to 9:00 pm
The group will trek to a Christmas tree farm to find the perfect tree to bring back to camp to decorate while sipping hot cider and baking holiday treats. We will sing holiday songs and may just have a special visitor! Limit 25 campers.
Contact Karina Alvarado at karinaa@thearcofsomerset.org or at 908-725-8544, x 672 for more information
---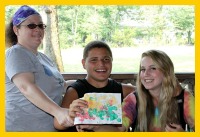 Sounds of joy and laughter fill the campgrounds. Warm summer showers, cool splashes in the pool, songs sung around a campfire are some of the shared memories created at Camp Jotoni, located in the rural Warren, New Jersey. Sponsored by The Arc of Somerset County, Camp Jotoni is a day and residential camp for children and adults with intellectual and developmental disabilities. Campers are ages five to adult. Camp Jotoni is set on 15 acres in Somerset County, and the camp features a junior Olympic size pool, cabins, dining hall, playgrounds, open air pavilions, unspoiled woods, and nature trail.
Camp Jotoni is accredited by the American Camp Association