Family Support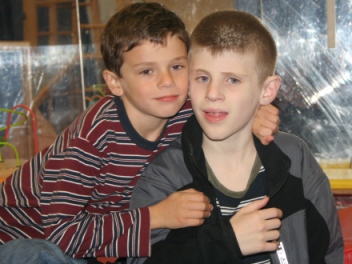 "Kids' Night Out and the staff offering this invaluable service have changed our lives. We are the parents of a special needs child on the autism spectrum and there are few, if any, other such services available. Through this program, our 10-year-old son and his otherwise neurotypical younger brother have the unique opportunity to take a few hours one Friday each month to gather and socialize with others sharing similar situations and life challenges. During the few hours together they don't focus on their challenges; they just enjoy being who they are! Meanwhile, parents like us have the chance to decompress and enjoy some much needed "me" time while knowing we have left our loved ones in such trusted and capable hands. Every time we drop our boys off, we count our blessings to have such a service available. And every time we pick them up at the end of the night, we mark our calendars for the next Kids' Night Out."
— Ted & Kelly, parents of Luke & Aidan
---
Family Needs Assessment
If you are the parent of a child aged birth to 21 with an intellectual and/or developmental disability, you are invited to complete an online survey: the Family Needs Assessment (FNA). Information from this survey will help organizations such as The Arc, early intervention programs, family-related and human service organizations better understand what needs are the most critical to families and seek funding to provide for those needs. Take a few minutes to complete this survey today!
---
The Arc of Somerset County's Family Support Program assists individuals with intellectual and developmental disabilities and their families in their efforts to remain together in their homes and communities. The home is typically the best environment for the individual so Family Support is often defined as "whatever it takes" to help an individual stay in his/her natural home. Family involvement and empowerment are crucial in determining the needs of the individual or family. Raising a child with an intellectual and developmental disability can challenge a family's ability to cope. Parents, siblings, caregivers and friends often feel overwhelmed. The Family Support staff works with the family to determine needs and assist with obtaining quality supports necessary to enhance the quality of life for the families and the individual with a disability.
Families are invited to visit The Arc's Family Support Center to discuss their unique needs, consult our resource files, network with families and related agencies. We serve children and adults with intellectual and developmental disabilities and their families with and without disabilities.
The following services are currently offered by the Family Support Department:
To qualify for the services detailed below, individuals with intellectual and developmental disabilities must be found eligible by the New Jersey Division of Developmental Disabilities (DDD) and must be referred to The Arc of Somerset County by their Case Manager.
For more information regarding any of our programs detailed below, please contact our Family Support Department at 908-725-8544, ext. 624 or marya@thearcofsomerset.org.