The Achievement Center at RVCC
Why College?
The Achievement Center believes that for many prospective students, college is the right environment to continue toward employment, begin the process of lifelong learning, approach a single topic of interest and many other valid goals that should be equally available to all adults within our community.  
Why college?
Because learning is life-long
Because navigating college is a blueprint for navigating life
Because choice in what and how to learn is most available in the collegiate environment
Because college is more than classes; it is interests, personal connections and civic engagement
Because interpersonal skills learned in college translate to those used in career life
Because college means greater student-centered choices
Because college provides time and space to plan your life and career goals alongside your peers
Because the choice to attend college should be equally possible across the spectrum of abilities
Because more and more young adults and non-traditional aged students with intellectual disabilities want it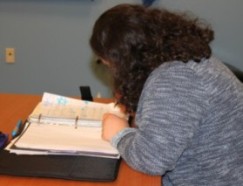 For information about 'Why college?', please click here to view an article from www.thinkcollege.net.