Friends of The Arc Angel Gala - Help Build Camp Jotoni Cabins 3 & 4
The Covid-19 pandemic has interrupted life as we knew it.  As a health and human service organization, we have been met with great adversity, from the necessary suspension of programs to losing longtime friends and loved ones.  This difficult time has also given birth to resiliency in our ranks.  True acts of care and love have been happening on a daily basis at The Arc of Somerset County and for this- we are most grateful.
Annual Event Announcement for 2020
The Annual 2020 Arc Angel Gala that was to happen on Friday, November 6th, at the Bridgewater Marriott is cancelled due to  COVID-19 uncertainties this fall.
Please Click Here to Support the Completion of our Camp Jotoni Cabin Renovation Project in Lieu of the Cancellation of Our Annual Event Fundraiser This Fall.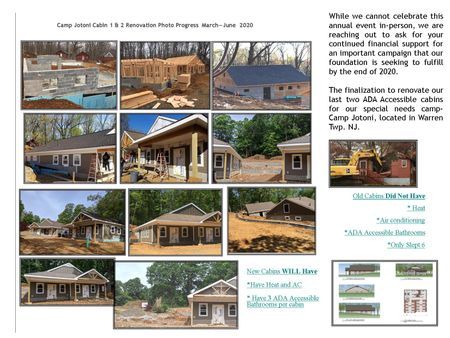 Our Phase 1 Renovation Plan for Cabins 1 & 2 which began in October 2019 is now complete and our plan for the remainder of 2020 is to continue with the building of Cabins 3 & 4 as we seek to fulfill a financial goal of $800,000.
With Cabins 3 & 4 completed, we will be able to provide a full year of respite services available to over 300 families that register their child or adult to Camp Jotoni each year.Your donation will provide the vital funds needed to complete the cabin renovation of our camp facility which will allow for an expansion of our services for children and adults with Intellectual and Developmental Disabilities.  
Attached, please find the "2020 Friends of The Arc Foundation's Annual Gala" Camp Jotoni Donation Form".  If you and your family are interested in a Naming Opportunity for Cabins 3 & 4, please refer to the naming opportunity form and call our Foundation Office for details on this opportunity.
Thank you so much for your consideration of support for this very special fundraising project for our beloved Camp Jotoni and thank you for helping make a difference in the lives of so many families in New Jersey who use this program each year.
---
In 2019, The Arc Foundation of Somerset County Celebrated The Annual Arc Angel Gala theme of "Galloping into the Future" to honor the Far Hills Race Committee for their impact on our community for health and human services around Somerset County on Friday, November 1st at the Bridgewater Marriott!
Special thanks to everyone who supported,  attended and enjoyed the celebrations!
Click on the link to enjoy our Derby Theme Photo Booth!
Use the Pin #: 3980 to view the photos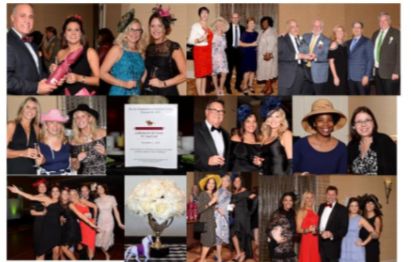 ---