News Room
10th Annual Tea With Honey held on February 8
Posted on 02/11/2009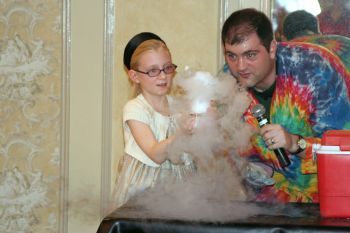 The 10th annual "Tea With Honey" luncheon was held on February 8, 2009 at the Olde Mill Inn in Basking Ridge. Over 80 children attended the winter-themed event with their parents and friends, raising funds for Childhood Services programs at The Arc of Somerset County.
Attendees bid on the many beautiful baskets in the silent auction that were generously donated by the committee members. Andrew Piccirillo of Piccirillo Sciencetelling captivated the audience as he told a story using fun science experiments and props, and very child's hand shot up when he asked for volunteers.
Tea With Honey raises funds to provide services to children with developmental disabilities through the Jerry Davis Early Childhood Center, PACT (Parents and Children Together), and Camp Jotoni, all programs of The Arc of Somerset County. Over the past 10 years, the Tea With Honey event has provided the resources for therapy scholarships, developmental toys and equipment, school field trips, new preschool curricula, facility improvements, and so much more. Every child served by The Arc benefits from these much-needed funds.
The Arc of Somerset County extends its sincerest gratitude to all of the tireless and dedicated Tea With Honey Committee Members. The event would not have been a possible without Co-Chairs, Alyson Binder, Lisa Dudzik, and Bridget Hansen, and Committee Members, Claire Arrigan, Bern Barrett, Diana Butler, Carolyn Campione, Colleen Carolonza, Jodi Connors, Kim Cullen, Michele Fabbio, Lucy Hofert-Iselborn, Melissa Inzitari, Bridget Jaeger, Kathy Krell, Sharon Macak, Jen Mangini, Katie Mohan, Lisa Olmstead, Ryan Parker, Janet Petrillo, Melissa Polito, Robin Prince, Beth Rosavear, Lynne Thompson, Colleen Viggiano, and Michelle Wester.
For more information about The Arc of Somerset County, please visit www.thearcofsomerset.org.