News Room
Arc Honors Business Partners
Posted on 03/05/2009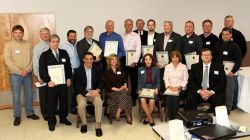 On February 20 and 27, 2009, The Arc of Somerset County honored more than 50 of its business partners at receptions in Hillsborough and Branchburg, respectively, for providing employment opportunities to individuals with developmental disabilities. Arc business partners create employment opportunities to meet their needs, while supporting individuals with developmental disabilities and their families.
"The disability community in Somerset County represents a vital,untapped workforce of competent individuals who are willing and ready to work", said Christopher Corvino, Associate Executive Director. "And our workers take pride in earning a paycheck and paying their taxes like everyone else," remarked Lauren Panarella, Executive Director.
Each business leader also received a Citation from The Somerset County Board of Chosen Freeholders for supporting economic development in the community. "We applaud each of the business leaders for all you do," said Freeholder Jack M. Ciattarelli.
Through its Employment Services programs, The Arc of Somerset County trains and places qualified individuals to work in supermarkets, hospitals, retail stores, pharmaceutical firms, to name a few industries. Employment Services also operates four production and training centers in the county, where hundreds work on jobs everyday which include mailing, packaging, assembly and light manufacturing contracts. The Arc has just launched a new full-service, secure shredding operation to serve the business community. "We've worked with the Arc for a number of years, and appreciate its reliability and dependability," said Fred Hessenthaler, VP, Branch Manager,Chubb & Son.
Honorees included: ACCSES NJ; AMC Theaters; American Jewelry Supply; Argyle Industries, Inc.; Associated Mailing & Printing Services LLC; Bair Financial Services; Baldwin & Obenauf; Bernard Township Library; Brandywine Assisted Living at Middlebrook Crossings; Bridgewater Wholesalers Inc.; Chubb & Son, Inc.; Cooperative Housing Corporation; Courier News; Delia Associates; The Discovery Orchestra; Ethicon, Inc., a Johnson & Johnson company; EWA; HealthCare Institute of New Jersey; Kings Supermarket; Lincoln Services, Inc.; Local Yellow Pages, Inc.; Mara Shipping; Masters of Marketing, Inc.; Micro Fasteners; Montgomery High School; Morton Salt; New Jersey Water Supply Authority; Niagara Conservation; Ortho Clinical Diagnostics, a Johnson & Johnson company; Oticon; Pathmark - Hillsborough; Pathmark - Hope Lawn; Pathmark - Middlesex; Pathmark - North Plainfield; Pitney Bowes, Inc.; Plexus Innovative Technologies; Professional Management Associates; Rapps Pharmacy; Raritan Valley Community College Foundation; Shell Packaging Corporation; Shop Rite - Branchburg; Somerset County Business Partnership; Somerset Medical Center; Somerset Patriots; Specified Technologies, Inc.; Stoelzle-Oberglas; Stop and Shop - Piscataway; Stop and Shop - Raritan; Stop and Shop - Somerset; Synergy Direct Marketing, Inc.; Target - Watchung; TenPin Lanes; Top Safety Products; TRIMLINE Medical Products Corporation; VIA Data & Marketing Services, Inc.; Wal-Mart Store # 5069; Wegmans – Bridgewater.
We believe The Arc of Somerset County can help you meet your business needs. For more information, please contact Jim O'Rourke, (908) 707-1112 x 22, or jimo@thearcofsomerset.org