News Room
NJ Senator Christopher "Kip" Bateman to join The Arc in honoring local business leaders that provide employment opportunities for individuals with disabilities.
Posted on 09/16/2010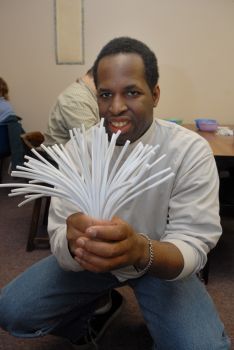 In the spirit of October's National Disability Employment Awareness Month, The Arc of Somerset County will honor local businesses that provide employment opportunities for adults with intellectual and developmental disabilities at its first annual "Celebration of Partnerships for Employability" event, scheduled for Friday, October 22, 2010, 2:00-3:30 pm, at The Arc's Branchburg Adult Training Center at 161 Industrial Parkway, Branchburg, NJ. NJ Senator Christopher "Kip" Bateman will join The Arc in honoring and recognizing these local business leaders for their exemplary commitment to disability employment.
Recipient companies include: A&P Stores, ACCSES NJ, ACME, AMC Theatres, American Jewelry Supply, Argyle Industries, Bernards Township Library, Brandywine Assisted Living at Middlebrook Crossing, Bridgewater Wholesalers, Inc, Burks Companies, Inc, Charlie Brown's Steakhouse, Chartwells Dining Services, Chubb & Son, Inc., Courier News, Discovery Orchestra of New Jersey, Environmental Center, Ethicon, Inc., EWA, HealthCare Institute of New Jersey, Kings Supermarket, Lego's Store Bridgewater Commons, Lincoln Services, Inc., L'Oreal USA Products, Inc., Mara Shipping, Morton Salt, N J Water Supply Authority, National Bio+ Green Sciences, Ortho Clinical Diagnostics, Oticon, Pathmark – Hillsborough, Pathmark - Hope Lawn, Pathmark – Middlesex, Pathmark - South Plainfield, Professional Management Associates, LLC., Promotion Resources, PRWT Services, Inc., Qualcomm Flarion Technologies, Quick Chek, Shop Rite – Branchburg, Somerset County Business Partnership, Somerset Medical Center, Stoelzle-Oberglas, Stop and Shop – Piscataway, Stop and Shop – Somerset, Synergy Direct Marketing, Target, TenPin Lanes, Top Safety Products, Trimline Medical Products, Wal-Mart Store #2651, Wegman's – Bridgewater
The event is free and open to the public. For additional information, or to RSVP, please contact Tara Abbott at 908-725-8544 x610 or via email at taraa@thearcofsomerset.org.