Adult Recreational Activities
Check Out the Recent Issue of "The Buzz"- The Arc of Somerset County's Adult Service Program's Bi-Monthly Newsletter with chock full of reviews from the previous weeks virtual programming activities and an activity book for all to enjoy!

Check out this week version of The Buzz Vol. 4 Issue 1
The Arc of Somerset County is committed to providing recreation opportunities for the individuals we serve. A few examples of activities planned by the Recreation Department and various committees include:
---
The Arc's Got Talent!

---
---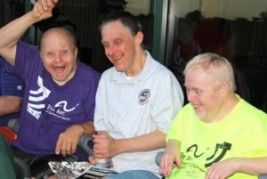 Focuses and enhances the challenges our male service recipients have on a daily basis and assists in the formation of friendships, increases socialization, and work life on a daily basis. Monthly meetings or outings, which occur the last Wednesday of the month, address life skills, community challenges, social bonding activities and group discussions. The program is open to all male persons served by The Arc. Please check the Recreation Calendar for dates and activities.

Somerset Patriots games - The Arc of Somerset County receives some complementary tickets through the Somerset Patriots Corporate Care Program.

Monday "Come and Dance" events - Five dances are held on Monday nights from 7:00 pm to 9:00 pm between September and April at the VFW in Manville. A DJ provides music, and punch and snacks are served to attendees. The price is $5.00 per individual. These dances are open to all Arc service recipients. Please check our Recreation Calendar for the scheduled dates.

Dinner Dances - There is one dinner dance scheduled during the winter holiday season where attendees enjoy a sit-down dinner and live music. Check our event calendar for the exact date.

Tuesday Times Group - The Tuesday Times Group is a recreational activity group that meets the first Tuesday of the month at the Camplain Road Day Program in Hillsborough. Bowling night, Karaoke, and Bingo are just a few examples of activities that consumers can participate in at these gatherings. The program is open to all of The Arc consumers and transportation is not provided.

Women's Club - The Women's Club is opened to all the women that reside in The Arc of Somerset County. This club has been running since 2014'. The ladies meet on the Third Thursday of each month. The activities vary from month to month, Depending on the group's decision. The members have participated in various activities in the community over the years. The choice is there's.