Adult Vocational Services
Community-Based Employment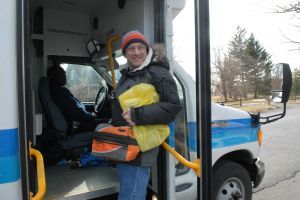 Supported Employment services are provided to individuals whose vocational aspirations lead them to employment in the community. In schools, shipping houses, hospitals, supermarkets and retail stores, this program currently supports approximately 40 men and women who are making community connections through work, and learning to navigate the vocational landscape in our large and multi-faceted county.
Supported Employment offers career counseling, evaluation and assessment, possible internships or on-the-job training, and assistance with any job accommodations which may be needed. A Job Coach is assigned to each individual to provide the prospective employee personalized strategies to improve their general employability as well as specific job-related trainings.
Supported Employment is an excellent choice for someone looking to pursue the most independent employment option possible through staffing opportunities with local organizations.
To learn more, please contact the Director of Employment Services at 908-707-1112 x22 or karenk@thearcofsomerset.org.
To learn more about The Arc of Somerset's staffing solutions for the business community, please select the link below: