Jerry Davis Center For Children & Families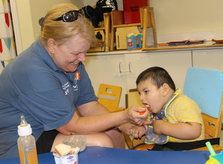 Therapeutic Services
JDCCF offers therapeutic services for children on a fee-for-service basis. Services are provided by New Jersey licensed therapists and teachers with pediatric experience. Available services include:
Speech Therapy
Evaluations - Oral motor skill development
Feeding - Augmentative Communication
The Listening Program
Occupational Therapy
Evaluations - Adaptive equipment
Sensory Integration - Fine motor skill development
Handwriting - Visual perceptual & self-help
The Listening Program
Physical Therapy
Evaluations - Fabrication of hand & foot splints
Gross motor skill development - Equipment
Orthopedic supports - Seating - Ambulation
Special Education Teacher
Applied Behavior Analysis (ABA) - The Listening Program
Rethink Autism Curriculum
Group Socialization Classes
Classes focus on gross motor skills, parent training, sensory integration, motor planning and provide strategies and activities to carry-over at home
For more information please contact Jill Glassman at jillg@thearcofsomerset.org.