Parents And Children Together
Fostering Success Through Teamwork
Judith and her two year old son, Matt, were referred to The Arc's Parents And Children Together program (PACT) due to her concerns about his development. After meeting with mother and son, PACT facilitated a referral to the Early Intervention Program (EIP), where Matt began to receive therapeutic services.
When Matt graduated from EIP, he was not found eligible for Special Education Services although he continued to have difficulty interacting socially with his peers and tolerating sound and visual input from his environment. PACT stepped in and helped the family connect with a preschool program by assisting in the search for an appropriate program, educating the staff about Matt's learning differences, and helping the family build natural supports. Throughout each of Matt's educational transitions, PACT was there to support the family in a similar manner. These efforts, in conjunction with those of his mother and teachers, helped Matt achieve social and emotional success in each academic setting.
As he finishes his freshman year this June, Matt has learned to seek out appropriate staff to address his concerns, use his problem solving skills to be successful, and become more independent. As a result of all of his continued successes, the list of opportunities for Matt is endless.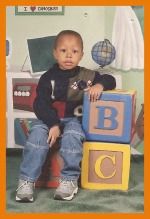 Nearly two years after PACT's initial involvement, Joey successfully completed his feeding program, is back in school, and is able to feed himself when appropriate. All parties involved, including his doctors, school psychologist, and teachers,are extremely pleased with Joey and his family's successes.
---
PACT (Parents And Children Together) is a community-based parenting-education program for Somerset County area families headed by individuals with intellectual and developmental disabilities.
PACT's preventative family support approach helps families access community services so they are able to live, work, and parent independently in order to keep their children emotionally healthy and educationally on track.
Staff includes professionals with advanced degrees and certifications in Special Education, Social Work, and Counseling.
PACT Family Interventionists ensure:
Family attendance and participation at child evaluations

Children's school enrollment and attendance

Family communication with teachers to enrich student learning and address issues that might interfere with progress in school

Family participation in the child's transition from school to post-secondary education, paid employment, or a training program for employment.

Family access and utilization of primary and preventative health care.
For more information, please contact the Jeanette McClew, Director of PACT, at 908-725-8544 x637 or jeanettem@thearcofsomerset.org.
---