Employment
Employment
Each Achievement Center Student engages in both classroom and practical experiences toward developing their employment goals, objectives, preferences and skills. Career development classes in the first year of attendance expose the student to planning skills and a variety of potential career choices through interaction with materials and individuals currently working in various fields. Student Centered Plans are then developed as a guide for future experiences.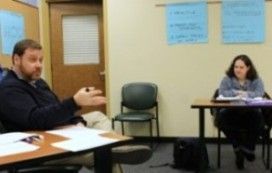 Achievement Center students are able to avail themselves of all the Service Learning opportunities coordinated by Raritan Valley Community College to sample work and various vocational environments. Job acquisition skills such as resume development, interview practice and trial versions of current state assessments support the tools utilized in inclusive class settings. 
Our program will work with in-house or third party Supported Employment Programs to develop further practical experience toward employment after completion of the program or concurrently as the goals and needs of the individual student dictate. The goal is to provide each student with the time and attention to aspire to a vocation, access the entry skills, and plan their approach toward a career.