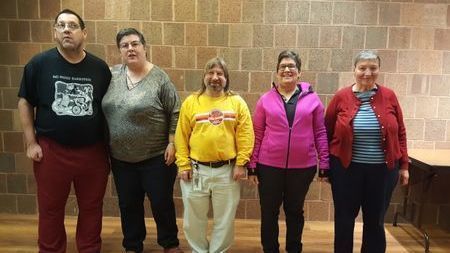 Advocates for Change
The Advocates For Change self advocacy group is open to any individual with an intellectual and/or developmental disability that is interested in advocating for him or herself. For more information, please contact Suman Paul at sumanp@thearcofsomerset.org.
---
What is Self Advocacy?
Self-advocacy is people with disabilities speaking for themselves, being empowered to make their life decisions on things like where they live, what sort of career they will pursue, and how their medical care will be directed. Self advocacy is when people with disabilities successfully advocate for themselves and exercise greater control over their own lives.
---
The New Jersey Self Advocacy Project
The Arc of Somerset County's Self-Advocates belong to Council 3 of The New Jersey Statewide Self-Advocacy Network (NJSSAN). Council 3 represents Somerset, Ocean, Monmouth, Middlesex and Mercer Counties and is one of five Councils throughout New Jersey.
The Arc of Somerset County hosts monthly Council 3 Self-Advocacy meetings with the Officers Meeting the second Wednesday of the month and the General Membership meeting the third Wednesday of the month.
As with all the Councils, the self advocates (members) decide to work together on certain goals and to do this they carry out various cooperative projects, working together, such as public awareness events and fundraising activities. They also work on educating not only the public, but also the state legislators, with some self advocates even testifying in Trenton on issues of importance to people with intellectual and developmental disabilities.
Two consumers from The Arc of Somerset County were re-elected as Chair and Vice Chair for Council 3 and are members of The Advisory Board of NJSSAN.
---
---
Advocate's Corner
Each month a self advocate will share something about himself/herself in the Advocate's Corner. Please take a moment to read the infomation below so you can get to know about our members.
Brian Moves to a New Apartment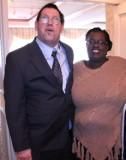 The Supportive Living Program continues to make huge strides in supporting the individuals they serve, promoting   their independence in the community. One individual served, Brian, has received outstanding support from his program staff, Sakree and Trenice, and their dedication to him has made a true impact on his life. Brian's daily challenge of keeping his apartment, organized and clutter free has been an ongoing concern for Brian. His staff used patience and gentle guidance to help him achieve his goal for his apartment. Brian's staff fostered the development of a trusting therapeutic relationship, which has resulted in Brian allowing them into his life. Over the last 6 months, Brian decided that he wanted to relocate. He had been living in his prior apartment for over 20 years. Though this place was home, Brian wanted to try to live in a new location. With the support of Sakree and Trenice, Brian was able to find a new apartment that would meet his needs and still feel like home. The staff have worked beyond the call of duty assuring that his move (which is a very stressful event)was as easy as possible and have  they worn many hats as advocates, counselors, confidants to name just a few. They have worked on Brian's behalf to assure his Section 8 rental subsidy has been transferred properly and his new apartment is up to the NJ DDD licensing standards. They have done their best to assure this process is as seamless as possible and as least stressful as possible. Brian will be in his new apartment before the holidays and he is very excited to plan a house warming party to invite his friends and staff over to see his new home.  
---
To find out more about the Advocates For Change, please call (908) 904-1694, or email, sumanp@thearcofsomerset.org