Welcome to The Arc of Somerset County
Celebrating 45 Years of Service
---
2017 Direct Support Professional Recognition Week is September 10-16!
Direct Support Professionals (DSPs) assist individuals with intellectual and developmental disabilities in every aspect of their life including helping with dressing, administering medication, preparing meals,supplying transportation, providing vocational training, and helping with the individual's  general daily affairs. Their work ensures individuals with disabilities continue to live productive lives in the community of their choice.  
During National DSP Recognition Week, The Arc of Somerset County wants to take the time to thank the staff who work tirelessly to support the individuals we serve.  Please take a moment to read the today's stories below about the dedicated and hard working DSPs at The Arc. Please click here to read stories from earlier this week. And when you encounter a DSP, please take a moment to thank them for all they do!  
Cindy Homnick
Cindy has been subbing at Gannett on Wednesday and Thursday and every other week Fridays. One of the days Cindy works at Gannett she will make crafts with the consumers in her group. She gets her ideas from the internet and then she will find the materials laying around the center or she will ask the other staff to save items that she things she can use to make crafts. Every week she comes up with a new craft for the consumers to do.
 
The other days she is at Gannett she will take the consumers out into the community. When on the outing she will take pictures of the things the consumers are doing. She then puts the pictures into a frame and bring it into Gannett. All the pictures that are hanging on the hallway of Gannett were done by her. Cindy also each week makes sure all the consumers outing objectives are done for the week or for the month. All the consumers and staff enjoy working with Cindy.
Samuel Misigah
Sam has been working with the Agency for more than 16 years. He is a very dedicated and committed employee. He is very regular and with no call-outs. He has been doing an exceptionally excellent job with Special Olympics; including registration of athletes, attending all the meetings and accompanying the athletes for County level meets and state level meets. He never missed a Special Olympics event. In all respects he is really an asset to the Agency.
Pete Skok
 Pete is an excellent staff who is dedicated to and  passionate about his work. Most recently, during a very difficult time here at the PDGH, Pete was very instrumental and supportive to one of our clients. While one of our clients was on a very rapid health decline, Pete volunteered to spend his shifts at the nursing home, rehab facility and the hospital to ensure that our client was receiving the best possible care and support. Pete was also extremely helpful during the transition of our client, and the family sent a card expressing their gratitude towards him. Peter works well with all of the consumers here at PDGH and assists well with recreation activities. Pete has also worked with Bob in the clinical services department for many years and has developed a great rapport with many of the consumers served by The Arc. we are grateful to have such a staff as Peter Skok!
DSPs by The Numbers!
- The Arc of Somerset County employs 318 DSPs.
- The Arc's DSPs hail from 18 different countries. 
- Their experience with The Arc ranges from one month to 25 years.
- The average age of the DSP staff is 43 years old.
- DSPs make up 78% of The Arc's total staff.
---
Arc Hosts Warren Chamber of Commerce Meeting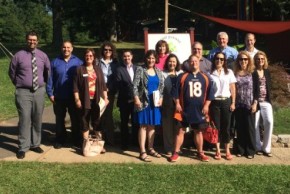 Camp Jotoni hosted the August meeting of the Warren Township Chamber of Commerce on August 24, 2017.
---
Contact Information

The Arc of Somerset County serves individuals with developmental disabilities and their families from birth through the senior years of life through our many programs and services in Somerset County. Today, we serve over one thousand children, adults, and their families in 33 locations including 27 group homes and apartments, four employment centers, the Jerry Davis Center for Children and Families, and Camp Jotoni.
The Arc of Somerset County is located at 141 South Main Street, Manville, NJ 08835 and our phone number is 908-725-8544.
There are limited spaces in our parking lot. Visitors can park in meter-free spots on South Main Street.
---
---
The Arc of Somerset County Now Listed as a Charity on AMAZON SMILE!
Do you shop on Amazon? Now those shopping trips can support The Arc of Somerset County as well. Use this unique link before adding items to your cart and 0.5% of the price of your eligible purchases will go to The Arc of Somerset County. Happy Shopping!
---


Join Our Email List

---
---
---
If you are from an outside agency and interested in registering for PRE-SERVICE TRAINING CLASSES, please click below for more information.
---