Welcome to The Arc of Somerset County
Celebrating More Than 40 Years of Service
---
National Disability Employment Awareness Month
October 2015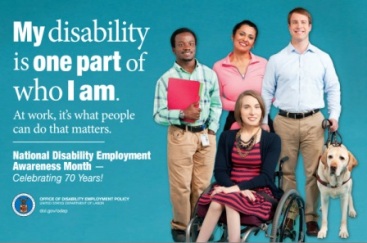 National Disability Employment Awareness Month, which takes place every October, is an important opportunity to recognize the contributions Americans with disabilities make to our society and to our workforce. 
According to the Bureau of Labor Statistics, only 17.1% of persons with disabilities were employed in 2014. This data proves that more must be done to improve employment outcomes. People with disabilities are an untapped labor market and we must encourage businesses and government to foster work-friendly environments and policies to ensure inclusive workplaces across New Jersey. 
Considering the significance of this occasion, we encourage you to spread the word about National Disability Employment Awareness Month to your friends, families and colleagues. 
---

The Arc of Somerset County serves individuals with developmental disabilities and their families from birth through the senior years of life through our many programs and services in Somerset County. Today, we serve over one thousand children, adults, and their families in 33 locations including 27 group homes and apartments, four employment centers, the Jerry Davis Center for Children and Families, and Camp Jotoni.
---
Contact Information
The Arc of Somerset County is located at 141 South Main Street, Manville, NJ 08835 and our phone number is 908-725-8544.
There are limited spaces in our parking lot. Visitors can park in meter-free spots on South Main Street.
---


---
---
---
If you are from an outside agency and interested in registering for PRE-SERVICE TRAINING CLASSES, please click below for more information.
Surveys are powered by Survey Software