Welcome to The Arc of Somerset County
Celebrating 45 Years of Service
---
October is National Disabilities Employment Awareness Month!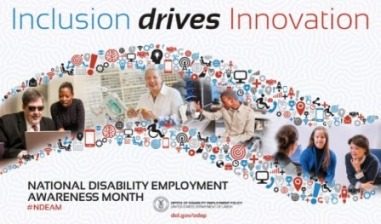 National Disability Employment Awareness Month (NDEAM) takes place each October to inform the public about the issues involving employment of individuals with disabilities and to recognize the many and varied contributions of America's workers with disabilities. Much has changed since the Department of Labor began sponsoring this annual campaign in 1945, but the fact that individuals with disabilities want to work and are a vital part of the American workforce still remains as the central part of the message.
Reflecting the important role that different perspectives play in workforce success, this year's National Disability Employment Awareness Month (NDEAM) theme is "Inclusion Drives Innovation." During October, NDEAM celebrates the contributions of workers with disabilities and educates about the value of a workforce inclusive of their skills and talents.
The Arc of Somerset County is always seeking new partnerships with local businesses and organizations to provide employment opportunities for individuals with intellectual and developmental disabilities. Contact us to learn about cost-effective fulfillment services provided by The Arc Business Solutions, or for help with hiring productive and dependable employees for your organization through The Arc Staffing Solutions.
---
Contact Information

The Arc of Somerset County serves individuals with developmental disabilities and their families from birth through the senior years of life through our many programs and services in Somerset County. Today, we serve over one thousand children, adults, and their families in 33 locations including 27 group homes and apartments, four employment centers, the Jerry Davis Center for Children and Families, and Camp Jotoni.
The Arc of Somerset County is located at 141 South Main Street, Manville, NJ 08835 and our phone number is 908-725-8544.
There are limited spaces in our parking lot. Visitors can park in meter-free spots on South Main Street.
---
---
The Arc of Somerset County Now Listed as a Charity on AMAZON SMILE!
Do you shop on Amazon? Now those shopping trips can support The Arc of Somerset County as well. Use this unique link before adding items to your cart and 0.5% of the price of your eligible purchases will go to The Arc of Somerset County. Happy Shopping!
---


Join Our Email List

---
---
---
If you are from an outside agency and interested in registering for PRE-SERVICE TRAINING CLASSES, please click below for more information.
---