Welcome to The Arc of Somerset County
---
January 2017 Herald
Please click below to view the January 2017 Herald. Find out about new happenings, and view recent activities and events at The Arc of Somerset County.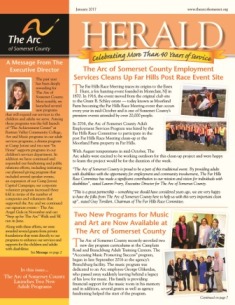 ---
---
Contact Information

The Arc of Somerset County serves individuals with developmental disabilities and their families from birth through the senior years of life through our many programs and services in Somerset County. Today, we serve over one thousand children, adults, and their families in 33 locations including 27 group homes and apartments, four employment centers, the Jerry Davis Center for Children and Families, and Camp Jotoni.
The Arc of Somerset County is located at 141 South Main Street, Manville, NJ 08835 and our phone number is 908-725-8544.
There are limited spaces in our parking lot. Visitors can park in meter-free spots on South Main Street.
---
---


---
---
---
If you are from an outside agency and interested in registering for PRE-SERVICE TRAINING CLASSES, please click below for more information.