Welcome to The Arc of Somerset County
---
Call-In Day to the Governor THIS FRIDAY, February 17th!
In the Fiscal Year 18 (FY18) Budget, The Arc of New Jersey, in partnership with the Coalition for a Direct Support Professional (DSP) Living Wage, is advocating for a $1.25 an hour wage increase for the DSPs who support people with intellectual and developmental disabilities. 
DSPs are the individuals that work with and support your loved one every day and they are critical to a successful life in the community. The Governor's Budget Address is fast-approaching, but before the fiscal outline is finalized, the Coalition is urging people to participate in a Call-In Day to the Governor's Office this Friday, February 17. The Arc of New Jersey Family Institute supports the Coalition's efforts and we ask you to please participate. 
The Governor must hear from YOU about why this increase is so important. The more calls made to the Governor's Office, the stronger our message will be. 
---
January 2017 Herald
Please click below to view the January 2017 Herald. Find out about new happenings, and view recent activities and events at The Arc of Somerset County.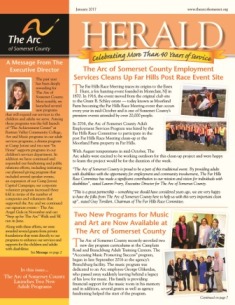 ---
The Arc of Somerset County Now Listed as a Charity on AMAZON SMILE!
Do you shop on Amazon? Now those shopping trips can support The Arc of Somerset County as well. Use this unique link before adding items to your cart and 0.5% of the price of your eligible purchases will go to The Arc of Somerset County. Happy Shopping!
---
---
Contact Information

The Arc of Somerset County serves individuals with developmental disabilities and their families from birth through the senior years of life through our many programs and services in Somerset County. Today, we serve over one thousand children, adults, and their families in 33 locations including 27 group homes and apartments, four employment centers, the Jerry Davis Center for Children and Families, and Camp Jotoni.
The Arc of Somerset County is located at 141 South Main Street, Manville, NJ 08835 and our phone number is 908-725-8544.
There are limited spaces in our parking lot. Visitors can park in meter-free spots on South Main Street.
---
---


---
---
---
If you are from an outside agency and interested in registering for PRE-SERVICE TRAINING CLASSES, please click below for more information.
---