Camp Jotoni Fundraising Cabin Renovation Update
"It Takes a Village" has been the mantra of Arc of Somerset County's Camp Jotoni since our first camp session in 1976. With nearly half a century of quality camp and respite services for children and adults with intellectual and developmental disabilities, Arc of Somerset County has worked hard to ensure that our campers and their families experience the joys of a supportive community.  
Supporters of the Arc and Camp Jotoni have provided vital resources that contribute to the upkeep and enhancement of this very special 15 acre property in Warren Township New Jersey.  Individual  benefactors such as you have devoted countless hours of volunteer activities on site and offered incredible financial support. As our camperships and  services grow, so does the need to fulfill this financial goal to complete the renovations of our  ADA Accessible cabins.
To date, since January 2014 we have:
* Raised over $1 Million from families, individuals, and private and corporate foundations.
* Hosted 3 Annual "Clubs for Cabins" golf fundraisers that raised over $150,000 each.
* Solidified financing options with a local bank.
* Broken ground on the new cabins in preparation for full utilization of our campers by 2021. 
Phase 2:
Since July 2020, we began our final efforts to complete Phase 2 by raising $800,000 for Cabins 3 and 4,  bringing the Cabin project to its successful completion. It will indeed take a village to build the last 2 cabins and your company can help celebrate this historic effort that helped to transform a piece of the Camp Jotoni property – that is essential to our special needs campers' experiences.
With each cabin built, children and adults with special needs and their families will benefit from increasing Camp Jotoni's respite program to 12 months a year. Respite care will expand beyond the 9 week summer, and overnight respite will be available more frequently to our growing list of campers and families.
CLICK HERE TO DONATE NOW TOWARD CABINS 3 & 4 
---
Ways You Can Help Support the Campaign TODAY!

Crowd-Funding is an easy way to raise money through your social media page as well as emailing friends and family to help you reach your goal!
Click Here to see how easy it is and call 908-658-3805 for assistance.
---
The Arc of Somerset County has been providing summer camp and recreation programs to children and adults with disabilities for over 40 years. Since then, Camp Jotoni has opened its grounds to individuals with special needs and their families each spring to share the excitement of our unique camp experience.Our goal for Camp Jotoni is to have our camp facility opened for year round respite programs. Respite programs offer parents a much needed break from the daily care of their child/young adult. In order to have this service, we must continue to raise funds to help support new insulated buildings and facilities that can be operated in all four seasons.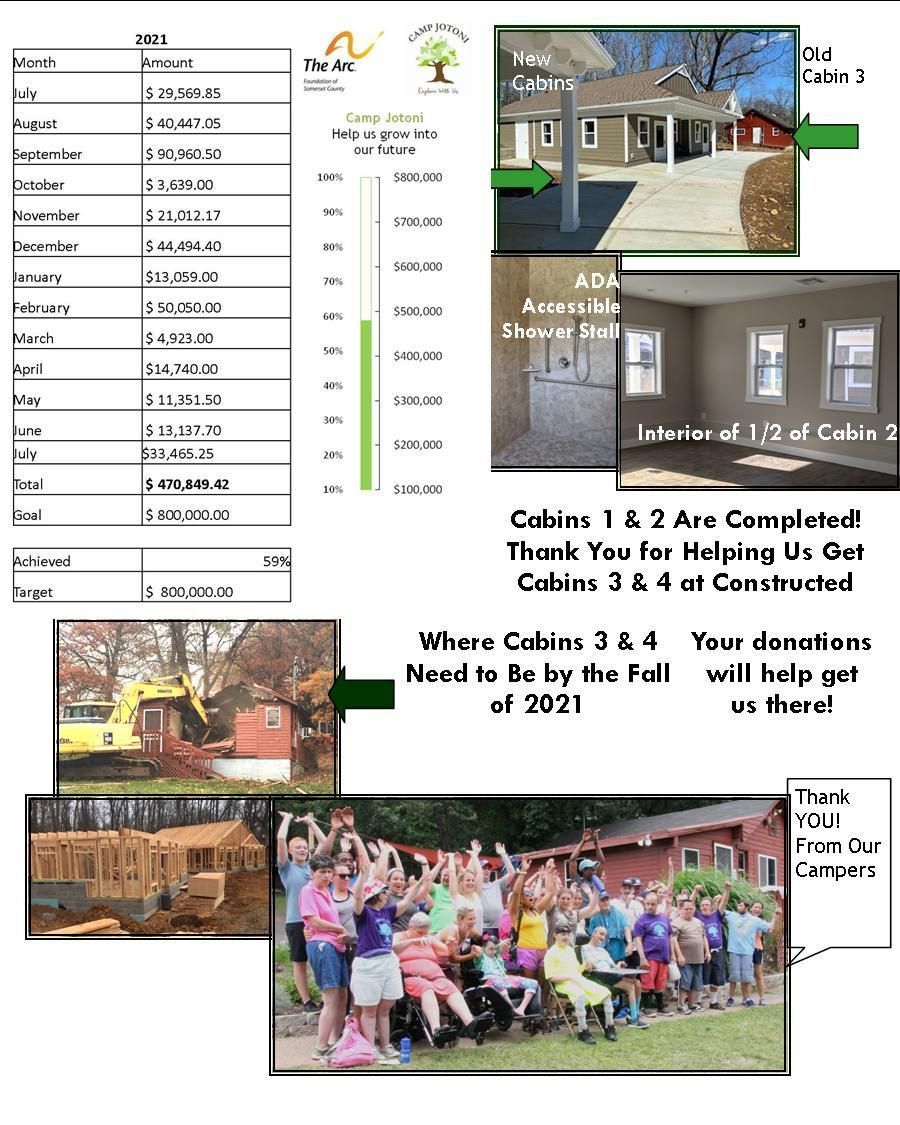 To view a 3D video of our proposed 1st cabin, please click below
CAMP JOTONI CAPITAL CAMPAIGN CONTACT INFORMATION
To schedule an in person meeting to discuss plans for Camp Jotoni's Revitalization Project and your interest in supporting the campaign, please contact Lisa Marie Arieno at 908-658-3805 or lisamariea@thearcofsomerset.org.
You can visit our Foundation Office located at 45 Route 202 South, Ste 100, Far Hills, NJ 07931, for a full review of the renovation project or we will be happy to meet  you at Camp Jotoni this summer for a 20 minute discussion about this campaign.
---
Please take a moment to review our Camp Jotoni Capital Campaign Video
---