Camp Jotoni Fundraising Cabin Renovation Update
"It Takes a Village" has been the mantra of Arc of Somerset County's Camp Jotoni since our first camp session in 1976. With nearly half a century of quality camp and respite services for children and adults with intellectual and developmental disabilities, Arc of Somerset County has worked hard to ensure that our campers and their families experience the joys of a supportive community.  
Supporters of the Arc and Camp Jotoni have provided vital resources that contribute to the upkeep and enhancement of this very special 15 acre property in Warren Township New Jersey.  Individual  benefactors such as you have devoted countless hours of volunteer activities on site and offered incredible financial support. As our camperships and  services grow, so does the need to fulfill this financial goal to complete the renovations of our special needs camp with PHASE 3 and PHASE 4 - Moving our ADA accessible pool from the lower grounds to higher camp level ground AND the Camp Lodge complete with classrooms, a nursing office, an activity room and banquet room where FULL YEAR use can be obtained for our campers and their families.
For more information, please call Lisa Marie Arieno - Director of The Arc Foundation of Somerset County at 908-658-3805 or email foundation@thearcofsomerset.org
---
Crowd-Funding is an easy way to raise money through your social media page as well as emailing friends and family to help you reach your goal!
Click Here to see how easy it is and call 908-658-3805 for assistance.
---
July 2022 Cabin Renovation Update
Help us get to the finish line!
The construction of our final two cabins is completed!  Due to the unprecedented supply shortage and increased costs, we need additional support to complete the construction project.
We are seeking $400,000.00 for cost increases for
•            Foundation
•            Lumber (walls / roof)
•            Windows
•            Siding and trim
Please consider sponsoring one of these items to assist in the completion of Phase ll of our Camp Jotoni Capital Campaign!
Here is how you can help:
•            Participate in the September 12th 5th annual "Clubs for Cabins" Golf Outing
•            Start a "Camp Jotoni Crowdfunding Page"
•            Ask friends and family to give a donation in lieu of a birthday or holiday gift for your loved one
•            Introduce a business partner/ friend to The Arc of Somerset County & Camp Jotoni
Now that we have these cabins completed, our full year respite program can extend into fall and spring months. 
CLICK HERE TO DONATE NOW TOWARD CABINS 3 & 4 
Help us meet this fund goal BEFORE October 1 so we can continue on to our PHASE 3 which is the much needed construction of the ADA accessible pool from the lower grounds to the main parking level ground. 
Checks Can be Payable to:
The Arc Foundation of Somerset County
P.O. Box 903
Far Hills, NJ 07931
Att: Camp Jotoni Cabin 3 & 4 2022 Summer Campaign
Thank You!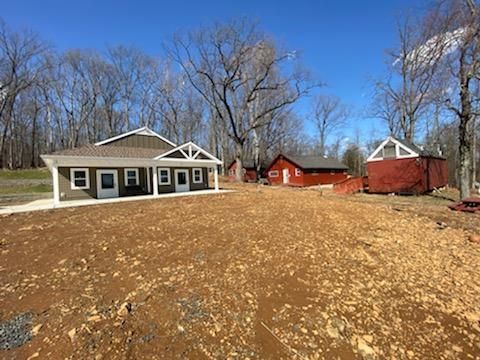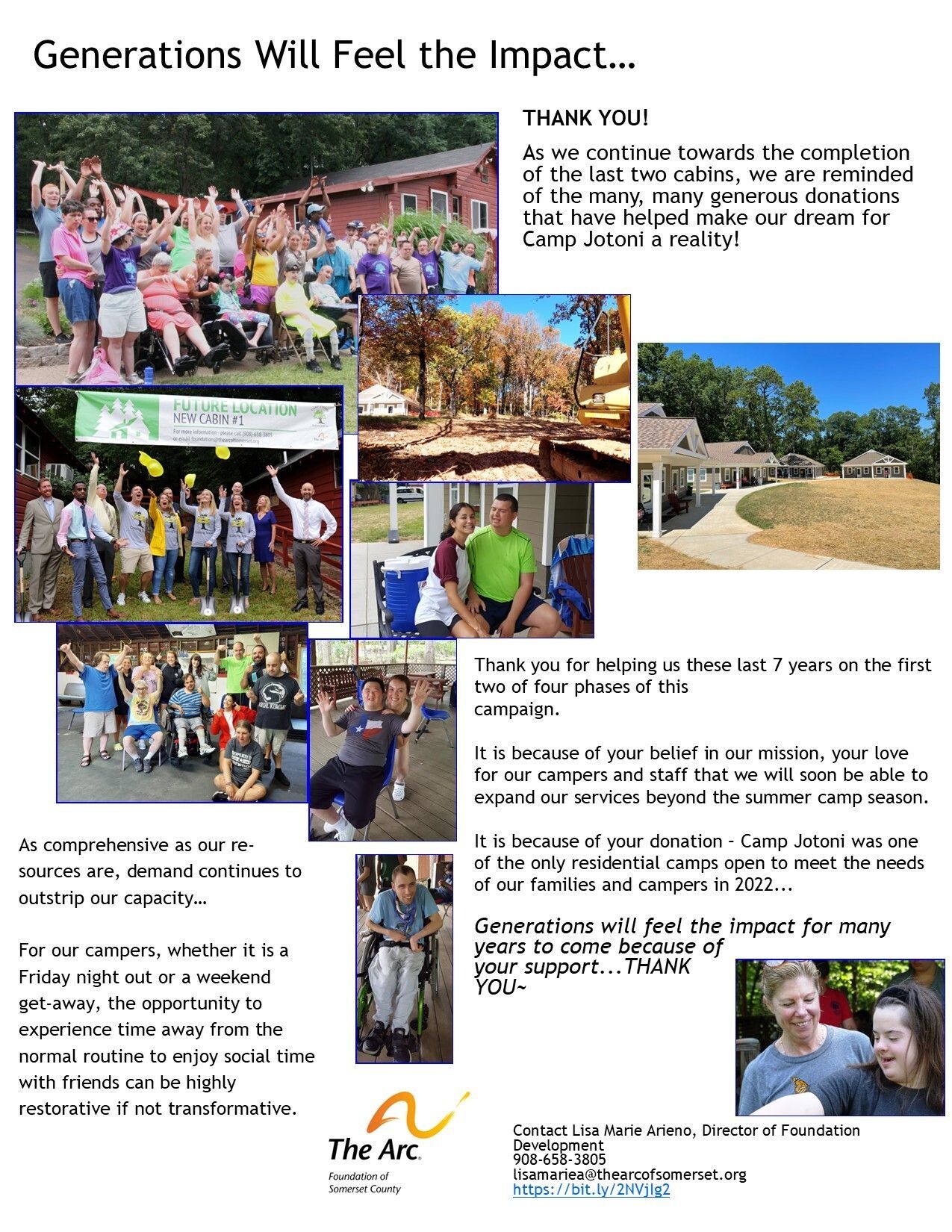 To view a 3D video of our proposed 1st cabin, please click below
CAMP JOTONI CAPITAL CAMPAIGN CONTACT INFORMATION
To schedule an in person meeting to discuss plans for Camp Jotoni's Revitalization Project and your interest in supporting the campaign, please contact Lisa Marie Arieno at 908-658-3805 or lisamariea@thearcofsomerset.org.
You can visit our Foundation Office located at 45 Route 202 South, Ste 100, Far Hills, NJ 07931, for a full review of the renovation project or we will be happy to meet  you at Camp Jotoni this summer for a 20 minute discussion about this campaign.
---
Please take a moment to review our Camp Jotoni Capital Campaign Video
---
Camp Jotoni Cabin Renovation Update